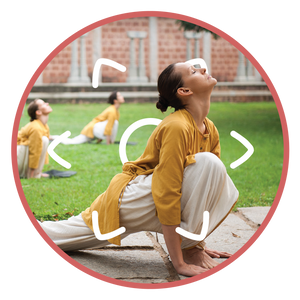 Surya Shakti - Fire up the sun within
Sale price Price $300.00 Regular price Unit price / per
Tax included.
Shipping
calculated at checkout.
 Coming Soon
30+ min practice
Ages 7+
Moderate intensity
Surya means "Sun," and Shakti means "Energy". 
Surya Shakti is an 18-step yogic practice which focuses on strengthening the sinews that hold your skeletal system — and your entire body — together. While it may not be geared towards pumping up your muscles, Surya Shakti is a very physically demanding practice. And with just 108 Surya Shakti cycles a day, you'll never need any other form of exercise. 
Benefits of Surya Shakti:
- Increases stamina and physical strength 
- Increases energy levels 
- Increases mental focus and makes the mind more alert
- Increases the strength of sinews and ligaments, making the body fitter
- Forms a basis for moving on to higher states of energy
Book your spots now to experience this unique opportunity to receive the most precious & ancient Yogic process in a consecrated Space in Austin at Yoga Netri.
Request a personal class at abhaya@yoganetri.com